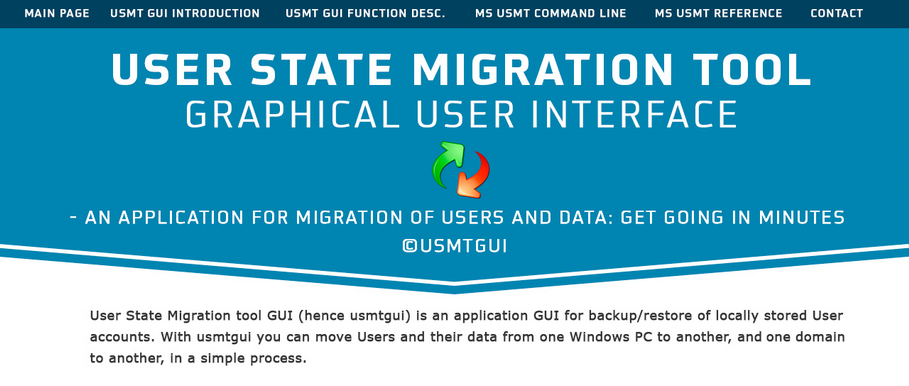 SEO:
Windows XP, Vista, Windows 7, Windows 8, Windows 10, migrate user account, migrate user profile, copy user profile, copy user account, move user profile ,transfer profile, transfer User profile, backup user Data, Migrate Local Profile to Domain Profile, Data transfer, transfer files and settings, Windows Easy Transfer, Files and settings transfer, GUI Wrapper, USMT, Pc Upgrade, Upgrade, Downgrade, User State Migration Tool
, USMTGUI Offline, User profile Migrator including boot ISO

INFO ON DATA RECOVERY
.MIG files are in a MS proprietary format that no standard programs can view. If you are just out to find a program to view and extract files from .MIG stores please check out Mike Morawski's Migviewer
here
!
USMTGUI

With USMTGUI you can move (backup) user accounts from a running Windows 7, 8, 8.1 and 10 and restore onto a new PC running Windows 7, 8, 8.1 AND Windows 10!! To backup from XP or VISTA, use USMTGUI offline.

New in v. 10.8.1511 Pro Package, April 13 2016:
Apr 04 2016: USMT 10 v. 1511 added. Firefox & Chrome settings migration
Apr 13 2016: Custom.xml option (re)added to GUI on several requests.
USMTGUI Offline + Boot ISO
With USMTGUI Offline you can move (backup) user accounts from any Windows.old folder.
With the WinPE Boot ISO you can move user accounts from any
offline
Windows disk.
For example a disk from a dead PC...
Supports XP, Vista, Win 7, 8, 8.1 or Win 10.



Thank you for all your help and support during this project - Diego F. Zamora
Background
In many ways USMTGUI is a replacement for the deprecated Microsoft tool Windows Easy Transfer. USMTGUI utilizes the same underlying "User State Migration Tool engine", that Microsoft has developed, to transfer User profiles from one Pc to another.
(often referred to as migrate user account, migrate user profile or copy User profile).

Simply put I have extended the usability of the User State Migration Tool (USMT) command line software, by adding a GUI.
I also created USMTGUI Offline, for backing up profiles from old Windows installations and from offline Windows system disks...

USMT, and USMTGUI, can also transfer user profiles from one version of Windows to another. All the way from XP sp3 to Windows 10.